KU Medicine Puts Out All the Stops to Overcome COVID-19 Pandemic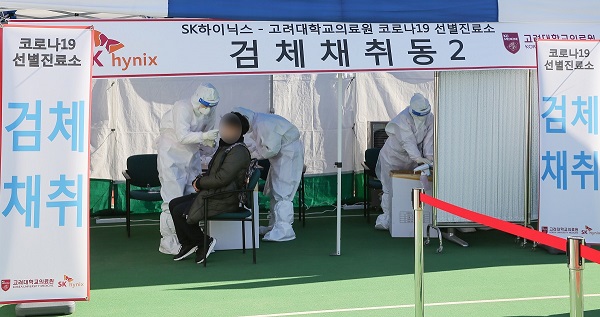 KU Medicine (Executive Vice President for Medical Affairs and President & CEO of University Medical Affairs Young-Hoon Kim) continues to shine as a socially responsible medical institution in the second wave of COVID-19.
KU Medicine opened a COVID-19 screening station at SK hynix's Icheon Campus at 9:00 AM on the last 6th and started testing. Over the next 3 months, more than 18,000 workers at SK hynix's Icheon Campus will be able to book a COVID-10 test and receive one during working hours.
KU Medicine dispatched a team of nine members including Professor Do-Hoon Kim of the Department of Family Medicine of Korea University Ansan Hospital as an advance team. It will be responsible for sample collection, diagnostic tests, and education for SK hynix safety and health personnel.
The screening station of SK hynix's Icheon Campus can run both rapid antigen test and PCR test, and a maximum of 300 people per day can be tested. PCR test on symptomatic cases are performed at a walk-through booth operates under positive pressure to protect healthcare providers from the virus. The screening station uses KU Medicine's hospital information system which will support more efficient and systematic appointment, scheduling, and testing.
Employees of SK hynix have had to come into work despite the COVID-19 outbreak because it is a chip maker, and 14 people tested positive for the virus last month at Icheon Campus alone. KU Medicine and SK hynix signed an MOU on 31 December to establish a screening center with the aim of preventing community transmission and protecting 'the forefront of the industry that represents Korea' with annual sales of 30 trillion won.
"We will continue the strategic partnership based on shared values with SK hynix, the backbone of Korea's economy, following the opening of this screening center," Executive Vice President for Medical Affairs Young-Hoon Kim stated. "Not only public-private cooperation but also creative private-private cooperation is important in the midst of an unprecedented crisis of COVID-19."
"We can't let our guard down because there are still newly confirmed cases in and out of the company," Professor Do-Hoon Kim of Department of Family Medicine of Korea University Ansan Hospital who was dispatched early this year and leading the site said. "We are in the process of establishing an efficient testing process with multifaced support of KU Medicine and Ansan Hospital. We will do our best to fully control COVID-19."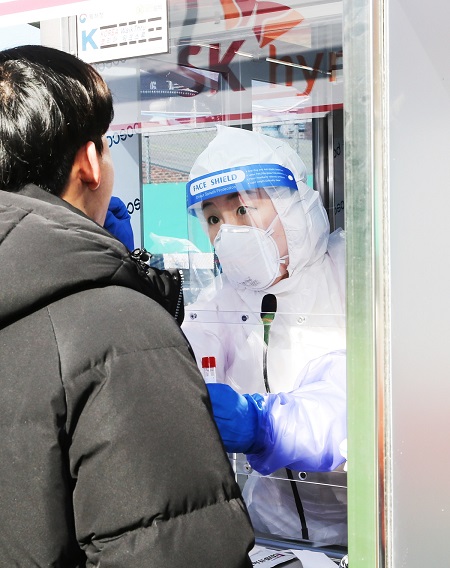 Other examples of KU Medicine's social responsibility activities abound. Since 23 December, Korea University converted Anam Campus' 'CJ International House' into residential treatment centers and offered them to disease control authorities. As such, KU Medicine dispatched a support team consists of physicians, nurses, radiologic technologists, and administrative staff to the Anam residential treatment center. The team is responsible for consulting and treating residents, collecting specimens, monitoring, taking X-rays, and training externally dispatched personnel. On 31 December, Prime Minister Sye-kyun Chung personally visited the site to give a message of support to healthcare providers.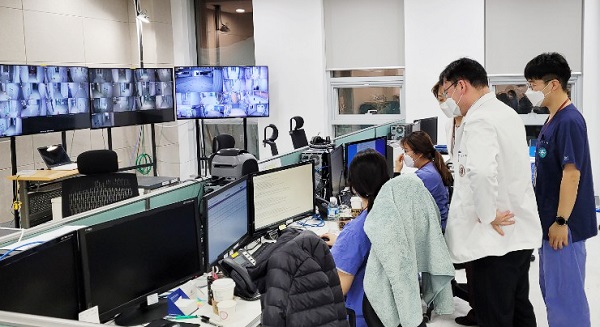 The Anam residential treatment center has 5 floors, 158 rooms, can accommodate a maximum of 314 people, and has mostly double rooms. Symptomatic cases are isolated from asymptomatic cases and housed separately. Resident smart monitoring system which was used successfully last March in Gyeonggi and Gyeongbuk Daegu community treatment centers was used and a system was put in place to rapidly transfer cases of worsening symptoms to Korea University Anam Hospital. As of 8 January, 66 residents are housed at the Anam center. For the first time since the opening, two were discharged on the 7th and returned to their normal life safely.
"In a hyperconnected society, our neighbors' pain is our despair. KU Medicine will not only play a role in treating disease but also in social responsibility to realize the values of 'we are in this together' to become a world-class medical institution that contributes to mankind," Executive Vice President for Medical Affairs Young-Hoon Kim said.
On the other hand, KU Medicine has put multifaceted efforts in overcoming the COVID-19 crisis by sending medical support team to the Daegu-Gyeongbuk region for the first time as a university hospital in Seoul last March, dispatching healthcare providers to Gyeonggi International 2 Center, and offering COVID-19 diagnostic devices and anti-contamination clothing to Madagascar and Malawi. It also hosted 'Next Normal Conference 2020' inviting luminaries from home and abroad to discuss the post-COVID-19 era. In July this year, it plans to proactively respond to the era of new infectious diseases by creating 'Jeongneung K-BIO Campus', a platform of infectious disease research, education, and vaccine and drug development.