The 4th Phase Tertiary Hospital Re-designation
of Korea University Ansan Hospital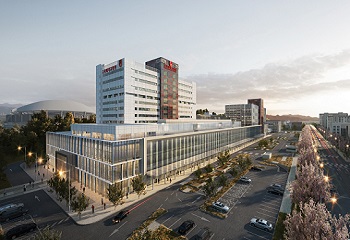 Korea University Ansan Hospital (President Woon-young Kim) was re-designated as the 4th phase (2021 to 2023) tertiary hospital by the Ministry of Health and Welfare (Duration: 2021.1.1 - 2023.12.31).
A tertiary hospital is a general hospital specialized in difficult medical treatments for severe disease. For 11 regions, items such as manpower, facility, equipment, hospital care, and education are comprehensively assessed, and excellent hospitals are designated as such every three years.
After calculating the number of beds needed for tertiary hospitals in each of 11 regions (Total 46,414 including Seoul region's 13,350), a total of 45 were designated in descending order of their points adjusted for the number of beds they need.
In the southern Gyeonggi area, 5 institutions applied and a total of 4 institutions were designated: Korea University Ansan Hospital, Bundang Seoul National University Hospital, Ajou University Hospital, and Hallym University Sacred Heart Hospital. After being designated in the 1st (2012-2014), 2nd (2015-2017), and 3rd (2018-2020) phase, it was re-designated in the 4th (2021-2023) phase, so it will be operating as a tertiary hospital from 2021 to 2023.
When designated, a health insurance fee addition ratio of 30% will apply. For the next 3 years, conformance to the designation standards will be assessed through the procedures like interim evaluations.
"I would like to thank all the employees for their contribution in keeping the hospital patient-centric and education-centric at the same time," President Kim said. "In line with the purpose of the designation system, the hospital will be a medical institution specialized in treating severe disease."