Korea University Medicine Offers a
Helping Hand to Ukrainian Refugees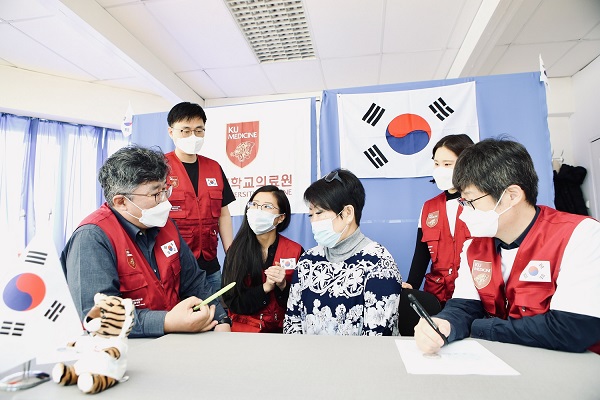 Korea University Medicine sent a volunteer team led by Won-min Cho to help Ukrainian refugees in Poland.
The volunteer team met with other relief organizations to discuss possible ways to cooperate to support the refugees and paid visits to major NGOs, Korean associations, and Korean missionary organizations to deliver medical supplies provided by the team and secured from the Korean Red Cross. The team decided to offer additional services and cooperation, including medical support activities that meet local needs. The team also plans to help with reconstruction on site as soon as the situation in Ukraine stabilizes.
After delivering medical supplies, including emergency kits and thyroid medicine, to Korean missionaries in Ukraine, the volunteers stayed for a couple of days at a refugee shelter in the suburbs of Poland, delivering medical aid and gifts to refugees and helping to sort out all the relief supplies.
They also visited a refugee shelter near Warsaw and delivered COVID-19 test kits and quarantine supplies, and trained NGO organizations heading to Ukrainian battlefields on how to use the supplies.
Two months into the Ukrainian War, which broke out due to the Russian invasion, more than 3.8 million refugees have crossed the border. Poland, where the largest number of refugees have found shelter, is providing extensive support, but the number of refugees has significantly increased, raising concerns over the burden being placed on the local emergency medical system.
An Israeli NGO official said, "We cannot even respond to emergency cases in the refugee camp. Demand is beyond the capacity of the Polish medical system. Medical support from outside is desperately needed."
In fact, it was not easy for a middle-aged woman at a refugee shelter who was suspected of having a thyroid tumor to get access to a hospital. A large 5 cm lump was found by a Polish doctor when she finally managed to visit a local hospital. She needed a thorough examination as soon as possible since a malicious tumor would likely be life-threatening.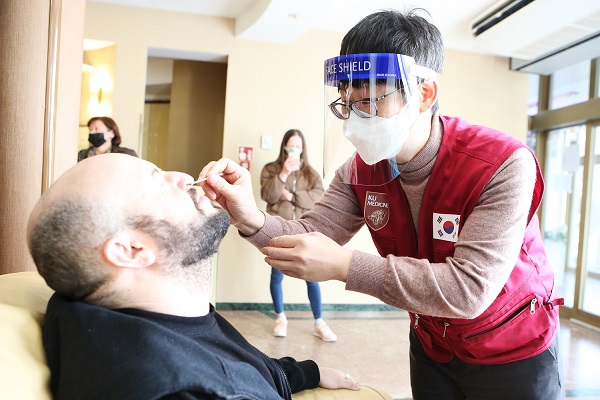 Chul-woong Chung, Professor of Transplantation and Vascular Surgery at Korea University Anam Hospital, said, "I used a portable ultrasound to check her throat as she complained of discomfort in her neck, and I recommended that she go to a hospital as it looked serious. I believe that she must have been in great pain as she is now living in a very poor environment in the refugee camp. She also suffered from polio when she was young."
Professor Chung added, "I feel really sorry that our scope of activities is limited here, but I will do my duty as a doctor whose main mission is to save lives."
The team also took care of a patient who suffered a cardiac arrest after midnight. Dr. Do-hoon Kim, Professor of Family Medicine at Korea University Ansan Hospital said, "I'm grateful that I have a chance to help them. I have flown a long distance and I'll run to wherever people need us."
In addition, they rented an office in Nadarzyn, a suburb of Warsaw, Poland, and held a meeting with Korean descendants living across Poland to deliver messages of peace and comfort. They gave advice about how to care for their health and delivered not only medicine and quarantine kits, but also daily necessities and Korean food, such as red pepper paste, soybean paste, and kimchi.
One of the attendees was a woman with her child, and she said, "We escaped bombing and my kid's tic disorder got worse, and above all, she is very anxious as her father was left behind."
Dr. Do-hoon Kim, Professor of Family Medicine at Ansan Hospital, said, "It was heartbreaking to see innocent children playing and running in front of their parents who suffered such a great loss. Helping them to recover from such a serious sense of loss should be the top priority."
However, those Korean people who came to the venue were still smiling and hopeful despite the difficulties they went through. They kept thanking the volunteers and wished them health and happiness.
Ms. Marharita Rim, a 39-year-old Ukrainian resident who managed to cross the Polish border with her daughter and two nephews, said, "I'm really grateful to the volunteers for coming all the way from Korea and offering this special time of comfort to my family." Holding one of the volunteers' hands tightly, she added, "I feel anxious and uneasy as our family members are all scattered. And I understand that it must be very hard for the volunteers to stay in this kind of place, which is not familiar to them. I hope you take good care of your health."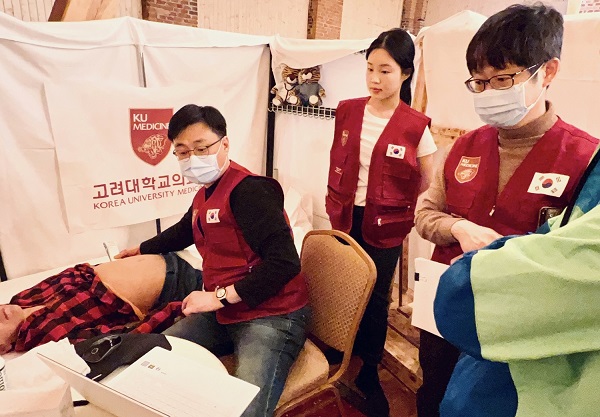 Dr. Chung from Korea University Anam Hospital said, "It took several days under extreme tension for them to flee the battlefield, so they looked very tired. And above all, they seem to be suffering from serious mental trauma." He also added, "There were many refugees who seemed to be in desperate need of medical assistance as they were not able to properly manage their chronic diseases."
Dong-soo Shin, a nurse at Korea University Guro Hospital's emergency intensive care unit, said, "There must be so many refugees who couldn't come to see us. I'm really sorry that we were not able to take care of more patients. I hope those who we met found the time and service that we provided were of some comfort to them."
Won-min Cho, professor of thoracic surgery at KU Ansan Hospital, said, "This war reminded us of the tragedy of forced migration of Koreans in the past. I sincerely hope our Korean brethren will overcome this difficult period and will be able to live in peace again."
The team also visited LG Electronics Mlawa in Poland and continued to provide voluntary services. In this small town with a population of only 30,000 people, LG and its partners hired 2,500 employees from Ukraine alone, and some refugees are also working here.
A mother who visited the volunteer team said, "My heart hurts so much as my 10-year-old child and family could not get out of Ukraine." She asked for help, saying, "I have a problem with my kidney, but I have run out of medicine."
Yang-hee Kim, a nurse at KU Anam Hospital's neonatal intensive care unit, said, "I brought hats for babies here, but I should have brought more. I couldn't sleep at night because I could not remove the images from my mind of refugees trembling with anxiety with their babies in their arms."
Dr. Cho said, "We will expand our partnerships with different affiliate organizations, such as local NGOs and hospitals. Based on this, we will enter Ukraine as soon as things are stabilized and offer a helping hand to those in pain."
Vice President Young-hoon Kim said, "We will continue striving to help them until they get back on their feet again. We hope that the voluntary service will serve as a starting point for ushering in peace for Ukraine and getting more support for them from all over the world."