KU Signs Agreement for Joint Operation of Global Healthcare Platform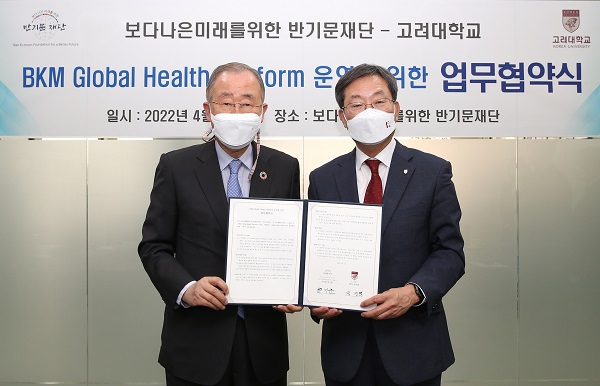 Korea University (President,
Jin-taek Chung
) is set to operate a global healthcare platform to prepare for any pandemics that may follow COVID-19.
Korea University announced that it has signed an agreement with the Ban Ki-moon Foundation for a Better Future (Chairman Ban Ki-moon; hereinafter "Ban Ki-moon Foundation") to operate the BKM Global Health Platform (hereinafter "Platform"). The signing ceremony, held at the Ban Ki-moon Foundation conference room in Jongno-gu, Seoul, was attended by key personnel from both sides, including KU President Chung, Vice President Young-hoon Kim, Chairman Ban, and Executive Director Sook Kim.
This global online platform was developed in August last year as part of a joint project between the Ban Ki-moon Foundation and the Asian Development Bank and was created to provide the world with information on the latest trends of infectious diseases such as COVID-19 based on scientific evidence secured from reliable sources.
The platform is based on databases from world-renowned institutions, such as the World Health Organization (WHO), Our World in Data, and the Institute for Health Metrics and Evaluation (IHME), and is supervised by the Eminent Group involving international experts in medicine, health, sociology, and mathematics as well as Ban Ki-moon, the eighth Secretary-General of the United Nations.
Under the agreement, Korea University and the Ban Ki-moon Foundation will cooperate to maintain and support the platform, and the two parties will contribute to improving global public health by making reliable predictions and preparations for new infectious diseases and pandemics.
The platform will be operated by the Korea University Institute
for Occupational and Environmental Health
(Director: Jae-wook Choi, Professor of Preventive Medicine), and infectious disease experts will provide support. It will share information on the current status of COVID-19 as provided by international organizations and educational institutions and present strategies and prospects for the international community's response to pandemics as well as tips on how to improve international health regulations (IHR 2005) and recent information on ICT-based response systems.
Chairman Ban said, "People are looking forward to the end of the COVID-19 pandemic; however, history has shown that new infectious diseases may hit us again. We look forward to working together with Korea University so that we can effectively respond to the next pandemic with the help from this knowledge and information sharing platform that will be operated in cooperation with Korea University."
KU President Chung said, "No one knows what the future holds, but I think it is a noble responsibility for scientists to predict and prepare for this unknown future. I am happy to share this opportunity to work with Chairman Ban, who has devoted himself to the international community, and I will do my best to make the platform a strong foundation based on global solidarity to counter new infectious diseases."