Start 2021 with Warm Heart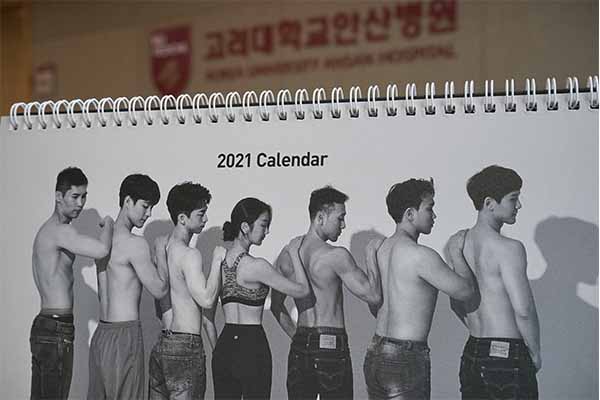 Recently, writing titled "I am receiving orders for fundraising calendar 2021" was posted on KU Medicine Portal. It began with "Hello, I am Won-young Bae, a radiologic technologist at Department of Radiology of Korea University Ansan Hospital," and said that "I hope no children would suffer just because they can't afford treatment." The post was about calendar sales.
7 employees of Department of Radiology of Korea University Ansan Hospital—Jaeseung Bang, Wonyoung Bae, Songpyo Seo, Jeongtaek Lee, Junghyun Yoo, Moin Ha, and Wondong Ha—worked out for 7 months from May to November, and their photos were used for the fundraising calendar.
They loved to work out and wanted to do something meaningful. Like 'hot cops' fundraising calendar to help out abused children or 'steamy' firefighter fundraising calendar for burn victims, they decided to make 'Korea University Ansan Hospital Department of Radiology fundraising calendar' to support sick children whose family is financially struggling. The proceeds will go to the hospital's Social Services Team.
Working out wasn't easy this year due to COVID-19, but no one could stop their passion to help out sick children. Other employees empathized with their compassion, and 192 people bought the calendar, joining forces.
"I am so proud of them for their compassion and the executing of the plan," President Woon-young Kim of Korea University Ansan Hospital said. "The hospital will also find a way to help out."